Het's 25th Birthday Weekend in Vegas!!
Tree, Het, and I took off to the other "city that never sleeps," last Friday. It was definitely good times. Before Tree and I went to the airport to meet up w/Het, we went to dinner with Greg and Jonas at Japanese Ramen House in Sherman Oaks. After dinner, we head straight to the airport. Our airline was "Ted," I had no idea it was part of United Airlines till that day. Prior to boarding, all three of us were looking for a place to start the party already. We went to the first bar and it was unsuccessful due to the lack of space and too much commotion since we wanted to chat, so we headed to Wolfgang Puck. Het was so funny, here's the convo she had with the bartender at Wolfgang Puck.
Bartender Carlos: What could I get you ladies?
Het: Do you have red bull? (this one was for me since I needed to stay awake)
Bartender Carlos: No, we don't serve red bull. Anything else?
Het: Ummm...could I get a hypnotic please?
Bartender Carlos (in a straight face): This is not a nightclub.
hahaha....we all started busting up. Then of course, we just ordered our regular drinks. Het, Tree, and I were able to sit in the back together and met a very nice stewardess, Amy. We told her it was Het's birthday and she gave us drinks although they don't usually serve alcohol for a one hour flight. She was so nice!
Once we landed we got our bags and took off to our hotel, Treasure Island. Once we checked in and were rested in our room, Het discovered she picked up the wrong suitcase. Oh goodness! LOL...so we had to head back to the airport to pick it up and luckily it was still there. By that time, I was hanging on the cliff since I was ready to just call it a night at 1:30am. I know, I'm getting pretty old now and my body cannot hang like it used to, it just hangs now. So Tree and Het were really understanding about it and then they took off to party at Tangerine downstairs and I just knocked out in the clothes I came in. I was just too lazy to budge. The girls came back early in the morning around 4:30am. After dancing, they went to the Venetian to go to the Grand Luxe and while they were sitting there, they decided to take the food to go since they were sleepy. Then the girls KO'ed for the night too.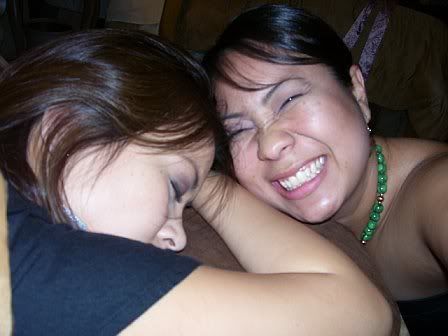 I got up around 9am and felt pretty rested. I felt so bad for the girls, their heads were still spinning when I talked to them and I didn't want them to feel obligated to wake up so I decided to go to the mall next door until they wanted to meet up. The mall was really nice, they had every store possible and what I enjoyed were the art galleries inside. They had oil painting galleries and I saw a few pieces that I loved. It costed a pretty penny though, made me think that I should take an oil painting class soon. I used to paint and draw a lot growing up, I stopped once I started college because life became a little more hectic. I remember growing up, my dad would always sit down with us and showed us drawing videos. My brother, Jimmy and I would have our notebooks and be in our own world for a good few hours. Ahhh memories :) Aside from the art galleries, there was huge screen in the middle of this gigantic mall showing fashion shows and etc. I have to say, it's one of my favorite shopping spots along with San Francisco, Toronto, and New York.
The girls got up for lunch and we ended up eating at the food court. After we got some food in our tummy, we went to the Venetian and hungout at Sephora for awhile. Then came back to Treasure Island to gamble. It was so much fun gambling and having a 101 course at the same time. Het and I were up playing craps. We were so lucky when Het was rolling the dice, she kept on hitting 8. I loved it! I think I really enjoyed the game because it was a team-oriented game. If she wins, we all do if we're playing her numbers! :)
Then we went up to our room to get ready and started our pre-party drinking. Het was the makeup artist on all of us and I repaid the services by doing her hair :). We did not leave the room till about 11:30pm and mind you, we had a flight at 10am in the morning. First stop was the Wynn, nothing exciting waiting in line and we got to check out the crowd, it was all old (and I mean oooold) men with very young girls. Younger than us and we're mid 20's so that's just self-explanatory alone. We thought it was too posh and we did not want to deal with the line or crowd, so we decided to head out to Jet at the Mirage. We didn't have to wait too long there but when we got to the counter and she asked us $30/per person, we decided to leave. It was not worth it to us to spend that much to get in. Then, we went back to our hotel and it was 1:30am already and decided to go to Tangerine. We got in quick and it was only $10/each...so that was reasonable. It turned out to be a lot of fun and the best place to celebrate Het's bday! We were so close to our room and left us more time to pack and stuff. The crowd was cool too and around our age range. After dancing, we went back to our room and packed. By the time we were done, we only had an hour to sleep before we had to go get our stuff ready to take off to the airport. We were definitely tired. Once I got home, I just slept till 7pm and woke up to eat. Then, went back to sleep again at 10pm.
Phrases for the Weekend:
Hetnaps
Tricia Wynn at the Wynn
Beatle - All I Need is Love
I'm Italian and half Roooomanian
Can you take this picture over pls?
This is not a nightclub
I need matches
I feel bloated
I need to go #2
What's Veeenom?
Is it too big to fit in the hole? Maybe you should bite it?
High five on the toes!
Shake it at the tip...It's not working?