After work this past Friday, my coworker Carol and I headed out to a little boutique known as, "Last Chance." It's one of her favorite stores in Los Angeles and now, it's one of mine. I definitely recommend going there, they have a nice selection of designer stuff but at sample sale price. I fell in love with this store when I stepped in. Clothes, handbags, shoes, and accessories, they have it all covered. They carry comfortable clothing with an edge and a lot of character to it.
Friday night, I stopped by Greg to drop off some soup for him since he was really sick and headed home afterwards to call it an early night. Work seems to do that to me nowadays, I usually like to keep Fridays as low-key as possible. Another reason might be age, I always need to take a nap or have coffee before I go out. It's my day to recooperate and catch my breath from the week :)
Saturday, I spent the entire day cleaning, attempt different jewelry designs but came up with nothing, and later on the night went to Tricia's and Lidia's Birthday Parties.
Lidia's Suprise Birthday Party was at Little Temple. I love this venue, it's a lounge with the best music I've heard thus far in LA. They have a seating area with all pillows around so you can get cozy and just talk. It was so nice to see Lidia's face when she walked in, she looked so happy and teary-eyed. Aww Lidia, I met her during pledging my sophomore year in college and been friends ever since. She's one of the sweetest person you will ever meet, so warm, loving, caring, wise, and gives one of the best hugs ever :)
Little Temple Bar - Lounge Room

Happy Birthday Lidia!!!

Tricia's Birthday Party was at Gotham Hall in Santa Monica. Greg and I were happy that we were able to make it on time before she passed out for the night...funny girl :)
Happy Birthday Tricia!!!

On Sunday, I woke up late and started the day off by going to the bead store in Manhattan Beach, "Bead Studio." I was able to pick up some more headpins, pearl beads, memory wire, and beading wire. Later on the night, I met up with Thithoa to go to mass at LMU Sacred Heart Chapel. The homily was very nice. The priest mentioned that faith is having a relationship with God and trusting Him by living in God's will. Once mass ended, Thithoa and I went to the Crepe Place next to LMU. It is one of the best crepe places I've ever been loyal towards. In addition to the great crepes, they also make boba iced tea...my favorite :)
Monday morning, Theresa and Het came over to make Vietnamese Spring Rolls and Het made Indian chai. I love the chai she makes, no one I knows make it as good as her. Not even Starbucks or Coffee Bean, I am a fan of her chai :)
Spring Roll Preparation

Me, Theresa, and Het...

Chefs in Action...

Ta-da!

The famous chai tea...Het shows us how to make it "Indian style"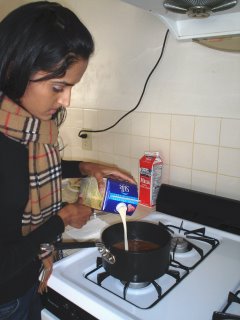 Warming
it up and good to drink after straining...yumm!
After we had lunch, we shared some laughs watching famous comedian, Russel Peters on youtube.com. He is hilarious! He's definitely worth watching, it's comforting for those days where you need to let out a big, hearty laugh :)
In the afternoon, my mom and I headed to downtown Los Angeles to check out the jewelry and fashion district. I must be honest, it was quite heartbreaking. I guess it was a reminder for me to not have expectations. The beads were "okay" and the only things I did find were the earring plates and headpins. It was reasonably priced considering how it is almost double at the bead stores. As far as beads, I would skip it in a heartbeat.
Jewelry District - Downtown Los Angeles

For dinner, I met up with Greg at our favorite sushi restaurant, "Yokohama's Sushi." It is located in Culver City on Overland and Venice. The saba and albacore are to die for :) The restaurant is very casual and laid back, service is always exceptional, and sushi is great. This one is a gem! :)